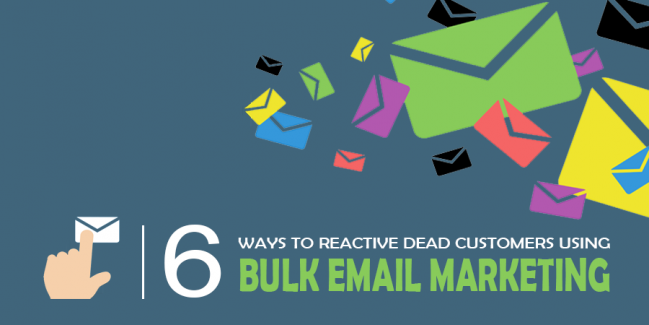 If you are spending too much time and money to get new customers, then STOP RIGHT THERE and focus more on your existing customers. Every successful business has customers' list that is acquired obviously over a period of time. But that isn't permanent… All businesses lose their customers now or then, therefore it's very necessary to maintain the existing customers.

'Acquiring' customers is like a walk in the park but making them 'stay' is what that needs effort. At first getting the customers doesn't seem tough but as you move down in the marketing funnel, you will get to know that things are little bit demanding. Internet is loaded with thriving Businesses due to which customers always get attracted to something new. This increases the competition among them for the customers.

It's definitely a lot easier and cheaper to sell to your existing customers than going out and getting new ones. HOW?? Well, you already know your existing customer base, so why not take advantage of them? Nevertheless, let's talk about the solution instead of dragging the topic; let's discuss the actual tactics that can be used by successful businesses to reactive their dead customers – HERE IN 2018…
get the work cut out for you when it's about curbing this disturbing trend and maintaining the existing customers.
WHY COMPANIES LOSE THEIR CUSTOMERS?
Talking in general, every good company aims to provide best services to its customers — but sometimes, customers come across different problems while getting the services. When they do, those problems have a significant impact on customer engagement.
According to an analysis in 2015, it was revealed that 50% of the customers, who did not encounter any problem when receiving a service, are fully engaged. However, there tolerance level is not so good. When they face any issue, most of them give up; only 15% keep themselves engaged even then.
Problem handling is much more significant as compared to problem resolution. Successful companies use problems as opportunities to engage their customers.
Anyways, there is always a reason behind customer's backing out. You might be making one or more of these support mistakes without even knowing it. You can sort out the solution only if you know the issue.
1. Email providers rejections
You've come across it once or twice, normally when you are sending bulk emails at the last minute.
You attach the recipients' list to your email and send it out. And then instantly you get to know that your email has marked spam or got rejected by email service provider.
It's obvious to get curious about the why's and where for's of email being rejected or being marked as Spam.
2. Old customers' emails bouncing
We all have been there.
i.e., you create an email, send away, and then — as you check your email report —its "bounced."
It means your email has never actually got to your intended recipient.
What's even worse??? — You might not know but If your email service provider has a high rate of bounced emails, it can have a negative impact on your delivery rate and your market value.
You need to clean up those bounced email addresses that bounce your emails, when necessary, and try to find out the reason why the emails get bounced.
6 WAYS TO BRING THOSE DEAD ONES TO LIFE
1. Send out special occasion's promos
Sending special occasions' promos is quite a traditional approach to engage your customers. Most of the businesses take advantage of special occasions and it actually pays off. If a customer has used your service once, there are 70% chances than he will get back to you if he was satisfied prior. Offering promos on special occasions is a tactic to remind the customer about your service and encourage him to come back and use your service again. In addition to that, you can also limit the time period on any specific promotion. It will create an intellect of urgency. This will make the customer to act as soon as possible because the offer has limited time and he wouldn't risk wasting time and letting go such a deal.
2. Creating win-back offers
Win-back offers are sure shot ways to increase email open rates even from your inactive customers as they have already given you their permission at one point. How? Well whenever any offer will pop up in their mail, they will get an impulse to open it in order to know what's within. And unlike new customers, as your old customers are already familiar with you, so there are chances that your offer may get accepted by them. All you need to re-engage your old customers and ultimately drive conversions is a compelling win-back campaign with a personalized subject line and appealing copy. You might choose to include a special offer to entice them.
Competitions bring new leads to the business. It is highly recommended to use different tools that will add vitality to your competitions and giveaways. When you give contestants additional entries into the competition, this will lead to an increased traffic when they start sharing it on different social channels as well.
3. Sending email updates about recent blog posts
Sending updates about recent blog posts helps you in retaining your customers, these update give them an idea about your progress and goals for future work. Customers will also stay updated to your services.
4. Inviting on company events
One of the best ways to attract and engage your existing customers is through event marketing. But figuring out which customers are interested in which events can be daunting.
People love to learn new things, and who better to teach them than professionals in your field? Think about what your business represents and the skills that you, your employees and your contacts have. Any of these can make for powerful and memorable events.
For instance, if you are a software company, you can host training sessions for relative customers showing them how to use your products.
Be creative, and think about what knowledge, skills and understanding might benefit your client base, and invite them over an event regarding their interest.
5. Greet them on their birthdays
If you want to keep your company on top, it is very important that you send out engaging and interesting messages to your customers in order to be heard above the crowd. For instance: BIRTHDAY GREETINGS. Everyone appreciates it.
Birthday greetings are a great opportunity and a chance to get your customers think positively about your company. In order to benefit the most, marketers often offer something of value such as a promotion or a discount if the objective is to drive a sale. With the amount of messages flying back and forth these days a simple 'happy birthday' probably isn't going to cut it.
6. Give a Great Read
Gather books and articles that have been most influential to your company. Give them as gifts to your customers. This provokes customers to have an insight of your company culture and opens the lines of communication for future discussions.
This is an effective technique especially when your customers are some businesses. You don't need to send out regular boring mails instead try to explain the core values behind your product and company. Companies that personify such philosophies and techniques get the most out of the crowd.
Make sure to write a personalized message inside the book in order to let your customer know how much they are meant.
CHALLENGES ENCOUNTERED IN REENGAGING THE CUSTOMERS
You know that the success of any business relies on the comfort and success of your customers, and the mindset that they built about you and your services — But sometimes, you might do things that make your customers angry or annoyed, even if you don't mean to.
Anyways, you can overcome this but there are certain challenges which are faced while reengaging the customers through bulk emailing:
Customer engagement:
Increasing customer engagement rate is the largest challenge that marketers face. It is essential for building long last relationships. Once you are succeeded in achieving customers' engagement, then it will lead to loyalty, profits, purchases, and ambassadorships for your brand. Without customer engagement, it's very difficult for a brand to grow and achieve the goals.
How customer engagement can be challenging??
The main challenge while increasing your customer's engagement is understanding who they are and what are they expecting from you. Luckily, with the help of mass email marketing, modern marketers understand the importance of using rich customer data that is delivered to the customers that are timely, relevant, wanted, and unique to each subscriber's interests. Marketers identify their current customers and then they create personalized content for each one of them and send them through automated customer journeys and email campaigns.
Customer acquisition:
Acquiring new customers is very important for the growth of any company. The greater your approach, the more people you can attract, and the more revenue can be generated. Email marketing plays a vital role in your marketing plans when you are aiming to acquire new customers.
How Customer acquisition can be challenging??
The biggest challenges in order to acquire new customers are to understand who your target audience is and then structuring your strategies accordingly.
Acquiring new customers can be more costly as compared to retaining the current customers, but is essential for the growth of your company. Marketing automation tools helps the modern marketers to create relevant customer journeys that will nurture leads or subscribers into customers.
The goal is to gain new customers at a reasonable cost and encourage them to be your long-lasting customers.
Customer retention:
Customer retention directly affects the overall revenue for your brand, and at a lower cost. Therefore, it is very important that you retain your current customers, who will refer more customers as brand advocates. However, losing customers can have a major impact on the health of your business.
How customer retention can be challenging??
As the industry progresses, customers have more choices while considering brands, and their attention span decreases in the crowded space of digital marketing. Email marketing is the best way to retain customers by creating unique content that is highly targeted and customized based on their needs. Marketers use email marketing technique to deliver customer satisfaction surveys, enabling them to accurately measure customer satisfaction. The main target is to obtain the right data and power up your campaigns in the right way.
Enriching contact data quality:
In order to power up targeted campaigns, marketers need quality data. But most of the times, marketers get challenged as they have no access to the data or data is incomplete.
How Enriching contact data quality can be challenging??
Many marketers don't have the right fields in their forms, or they are not using the right integrations in order to connect the data that they already have. All of the fields you include in your forms can be used in your email campaigns that will improve customers' engagement. For example, if you know the birth date of any contact, you can send them birthday offers through an email that specifically asks for the information from subscribers that you want to know.
CONCLUSION
The only solution to all of the above mentioned challenges is the usage of Good mailing service provider. Good mailing service requires doing everything right from lead capture, email marketing, checking workflows and notifications, handling automation and more. Every marketer needs a type of software that replaces all these features with a single platform at an absolutely affordable price.
That concludes "6 WAYS TO REACTIVE DEAD CUSTOMERS USING BULK EMAIL MARKETING" in 2018.
Let us know in the comments below which strategies you've tried and which ones work for your business.
At BulkResponse.com, we are helping our customers get more leads for their business using bulk email marketing. Click Here to signup for your BulkResponse Account and start getting business leads right away.