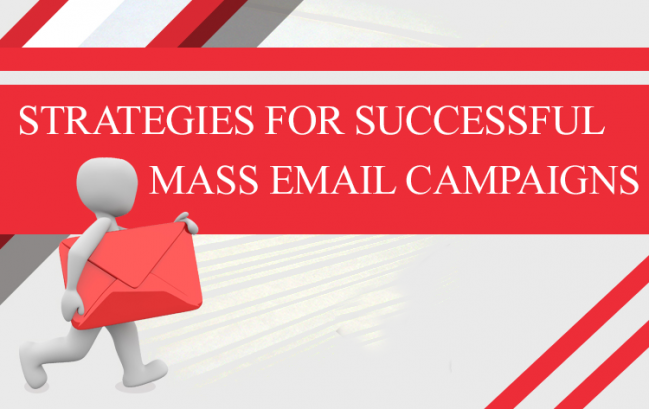 Most of the times, you might be spamming your own prospects without even knowing. You're likely be thinking "how can I?" and even then, you don't stop mass email marketing until it stops working. And, at that point, it's too late and you're left with no money.

Or if you are sure that you are going the right way, even then, how can you guarantee that you're maximizing the potential of your campaigns? How can you ensure that your audience is receiving your emails, reading them, and eventually, becoming customers? Well you cant. Least you can do is doing your best.
Here are some of the strategies for the evolution of your mass email marketing along with some of the challenges that you might get in counter with.
1. GET TO KNOW THE ACTUAL REASON OF MASS EMAIL
One thing you need to be clear about before moving on with the mass emailing is this that your content should be beneficial to the audience not you. Most of the people make this mistake during creating messages. People are never interested in responding to the messages that do nothing for them.
2. TIMELY MANAGE YOUR EMAILS
Try to keep the margins between the time spans you send out the mails. You need not to send out all the approved emails at the same time. Most of the people do this mistake and send out the emails as soon as they get approved. Try to give a little consideration to what time will be appropriate to send.
For instance, figure out which emails are more likely to get opened at the beginning of the week, and for which ones there are higher open rates around mid-day, or over lunch. However…you can go a bit further than that. Keep the concept of your business in your mind as well while doing so.
3. USE ENGAGING SUBJECT LINE TO HOOK YOUR AUDIENCE
In mass email marketing, the key to success is creating engaging subject lines. The aim is to achieve a high open rate and a high click rate. Your subject line makes your impression, and on the basis of it, people decide whether to open up the mail or throw it in spam folder.
Try to keep your subject line Brief. Stay away from over-used words and clichés, and try to present your audience with a hook that captures their attention. Most importantly, the content of the email should be consistent with your subject line or else it all will be in vain.
4. TRY TO USE ATTRACTIVE EMAIL TEMPLATES
As they say "first impression is the last one", well that's what this point all about. Good design is very important for long-term success – though it definitely doesn't mean that you start making sceneries or relative stuff – no. It's not about how much appealing something looks. But rather, good design refers to:
a. How well something works.
b. Is it easy to read?
c. Is it visually appealing?
d. Does it elicit emotion?
This is for both technical reasons and strategic reasons. The more complex your design is, the more difficult it is going to be to code it. So go with these points and win the hearts of your audience.
5. FOCUS ON THE EMAIL CONTENT: KEEP IT SHORT, SIMPLE AND RELATIVE
Good, quality content is the number one thing that adds value to your mass emails. However, even if your content is genuinely good, there are chances that the person reading it is already busy doing something else. Even they might get interested in what you have to say. But if they don't have time in that moment to read it, they'll probably file it away for later reading, and eventually just never get to it. So whatever you have to say…keep it as short as possible. Try to use Real and valuable content and don't waste the time of your customer. Give them a reason to genuinely give you their attention.
6. RESPONSIVE MAILS
Try to keep your emails user friendly. Not everyone, who gets your emails, will be using pc to go through your emails. A large number of people might be opening your emails through cell phones. If your content is not platform friendly then all of your hard work will be useless. The very first look makes the customer to decide whether to go through the whole mail or not, if it's not easy to go through, then your emails will ultimately start going into the spam folder sooner or later.
As email marketing is the number one communication channel all over the world, marketers can no longer rely on strategies that are ineffective. These strategies will definitely lead you to success in 2018 and beyond.
At BulkResponse.com, we are helping our customers get more leads for their business using bulk email marketing. Click Here to signup for your BulkResponse Account and start getting business leads right away.