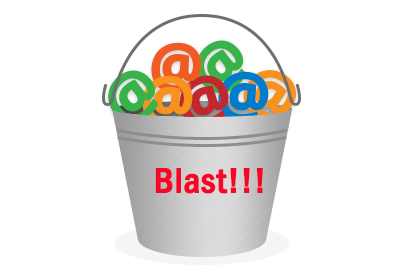 Every business looks to build an email list and they want to do it fast. The question arises, is it really necessary to build a list or there are other ways around. Let's take a look.
Why the Email List is built?
Wonder why sometimes despite having all the attributes of a good blog, it doesn't get traffic which ultimately doesn't help you earn even a few bucks! Here is when building an email list can be of help.
It helps you in running the blog/website successfully, without spending time to convince people to visit your blog and read the latest entry or see the offers. Email list is thus necessary:
1-      To get a huge traffic of subscribers for your ad-base blogs or websites.
2-      To make the blog go on and earn money.
3-      To spend time in the activities other than making people read your blog separately.
What are the Advantages of Building an Email List?

1- It is time saving.
2- You don't need to seek the attention of people through social media.
How to Build an Email List?
To build an email list, the first step is to set up your website or the blog for it. For this, you can get assistance from email list providers.Now the question is, how these providers can be used in list building?
The answer is simple; you just need to make an opt-in form with the help of these providers as they offer different kinds of tools for this purpose and place the form on your blog or website.
How to Build an Email List Fast?
Time is money and often you take way too much time in building an email list. So to avoid this situation, here are some ways to build the email list fast.
1. Email List Provider:
There are a number of email list providers available in the market. Read a few reviews and make a smart choice. Instead of stressing your brains out, take assistance from these providers and build the list fast.
2. Use your adeptness in a smart way:
This is a kind of bargain or a "give and take" policy in other words. If you have the skill of web-designing, making themes for the blogs etc, you can offer your skills to a marketer having a remarkably huge email list of subscribers. In return, make subscribers for your blog through his email list by simply asking him to plug in your website or blog for a particular duration.
3. Special Offers:
Innovative offers and unique discounts often allure people. In order to make your email list fast and to get many subscribers, offer such things so that they easily give their email addresses and the necessary information to get you going.
4. Online Forums can be helpful:
Visit online forums and indulge in discussions; this will help you widen your social circle and then you can offer people to visit your blog or website. I'd suggest to try WarriorForum first.
5. Make your Blog or Website more Interesting:
Most people just visit the websites, browse it a little and then carry on with their routine work. To hold their attention, your content needs to do the work. Use SEO techniques and be consistent in writing interesting and informative content. This can help in leveraging traffic, getting subscribers and eventually building the email list.
To build your list fast, sign up with confidence and opt for BulkResponse email marketing services.