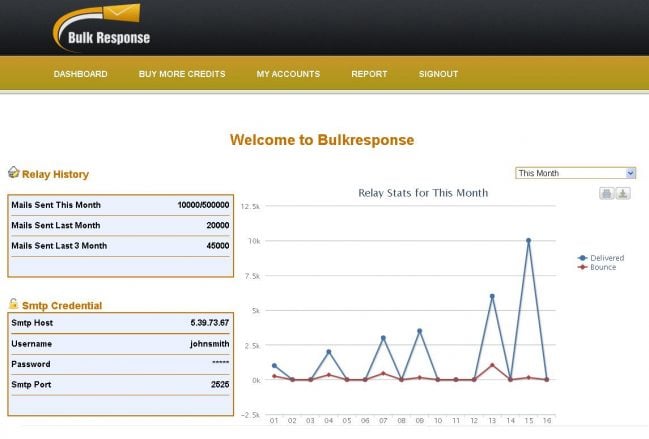 Last week I briefly mentioned some Big Things happening at BulkResponse. Well, it's finally here. My team and I have been working  very hard day and night burning midnight oil to bring you a yet another powerful service. SMTP relay service allows you to use our SMTP channel to deliver your email campaigns.
 You can now connect to our email SMTP from any other host and send your mails. In other words, you can focus on managing your contacts and database while we handle all the technical challenges related to email delivery.
 There are lot of clients who have been asking us that they are not really looking for a web account to manage their email campaigns, rather, they need SMTP relay service in order to deliver their emails through our mailing channels. There can be a number of reasons for using SMTP relay service.  You may have your own legacy list, or a members database hosted on your own servers and all you need is a reliable SMTP relay service to deliver emails to such members. The applications are countless. Due to popular demand, we had to get together and finally every one in the company decided they wanted to go for SMTP relay service.So here we are finally launching our own SMTP relay service in just 2 weeks time. Thanks to team of champions who are the backbone of this company and understand the true value of quality service.  Every thing came together very quickly when we all worked like a real team. We already had the infrastructure to support the idea, so all we needed was to put together the peace's of puzzle. Better and Simple Pricing Good news is that new prices of all packages is lower than web accounts. It means you can now send more emails while paying less. Moreover, our prices are lower than ANY other competitor in SMTP relay domain. Please check our new and affordable SMTP relay pricing. Compare us with any other SMTP relay service provider and we will stand out in prices. But this does not mean any compromise on quality of service. You are getting equally good quality service at better pricing. Dedicate Ips for better email delivery All the IP addresses allocated to each SMTP relay client are of highest quality and verified through many tests. You can be sure that your IP address has never been used before or is not being shared with any other member. Every SMTP relay client get a dedicated IP to start with, that deliver in inbox of all major ISPs like AOL, Yahoo, Gmail and Hotmail.  This means no Ips are shared with 2 or more accounts. You get a warmed up , neat and clean IP to start with. Keeping your IP address reputed completely depends on your mailing practices and how less complaints you receive. We recommend you keep your complaint rates under 0.5% in order to keep high inbox rates going. New login area for SMTP  Relay clients There is a new back-end interface for SMTP relay clients. This is where they can get information about their account such as how many emails they sent this month , or how many emails bounced on a particular day. Here is a screen-shot of how dashboard looks like. 
It is quite some fun to play with this neat and clean interface. Previously, SMTP relay clients had no up to date information about their mailing credits. Thanks to new back-end interface, you can now get up to date information about your relay credits and bounces. Buying More Credits You can now purchase new credits on demand if you happen to run short of credits during a month. This feature has been incorporated right inside the back end.
2 payment options have been provided i.e. PayPal and 2checkout (credit card). If you have been given a discount coupon, you may also be able to redeem it.
As soon as you make payment, the additional credits will be applied to your account. So you can buy as many credits as you like on demand.
Better Reporting For SMTP relay service, it was crucial to provide up to date stats and reporting. We created simple reports inside back end that give you up to 24 hours summary of your mailing activity. This report will be updated every 24 hours. You may be able to download archives as a CSV (Excel file) for your own record.
How to Sign-up in order to sign-up, Go to SMTP relay account pricing page. Here you can choose a package of your choice. Rest of procedure is pretty much same as web signup. Make sure to choose a SMTP relay package and not a web package.